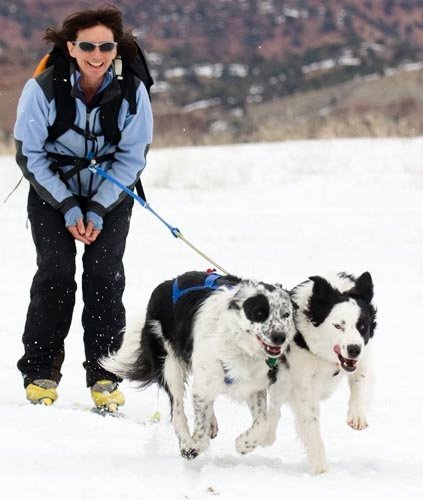 Skijoring
Skijoring is cross-country skiing while being pulled by your dog(s). It is a sport that originated in Scandinavia several hundred years ago and is quickly gaining popularity States side. One type of skijoring is done behind horses.  However, I teach skijoring as a team sport with you and your dog. Dog skijoring shares many traditions with dog sledding, and sled dog clubs and races often have a skijor component.
Skijoring can be done on any type of cross country ski. At slower speeds or in deeper snow, it is done on classic or touring skis…even backcounty skis! At faster speeds and on groomed trails, skate skiing is often the preferred choice.
Most skijoring equipment uses: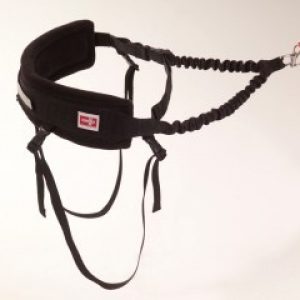 1. Belt for you
A belt that fits around the human part of the team. Belts should fit low around the waist/hip area and provide good back support. (They should not be high on your waist)

2. Quick release
A quick release from the belt to the skijor line. This allows you to release from your dog if you need to.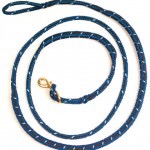 3. Bungee
A bungee towline. This is a 8 to 10 foot line with a bungee in it to lessen the stress and jerking on you and your dog. It attaches to the quick release on your harness and to the back of your dogs harness.
4. Skijor dog harness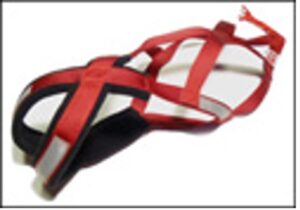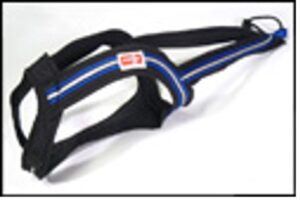 A good skijor dog harness runs from the dogs shoulders to the base of their tails when pulled full length.  This type of dog harness allows your dog to use all of their body for pulling, not just their shoulders, and allows your dog to be more efficient. It is important to get a good fit for your dog's harness. The neck opening should be large enough so that your dog can breath easily and pull efficiently.  Be sure that it is not too long in the back as dogs can get their hind legs stuck through the harness if it pulls down over their hind area. The X Back harness and newer Fast Back harnesses are shown.
5. Booties
Dogs wear booties if they are on abrasive conditions such as icy snow or asphalt (when scooter or bike joring). They also wear them if their feet get cold or there is a chance of frost bite. If dogs get snowballs in their feet it is good to trim their paw hair (carefully!!) and use an oily based substance such as
Musher's Secret
to prevent snowballs from forming. Musher's Secret is recommended because it contains no petroleum products should your dog lick it off of their feet.